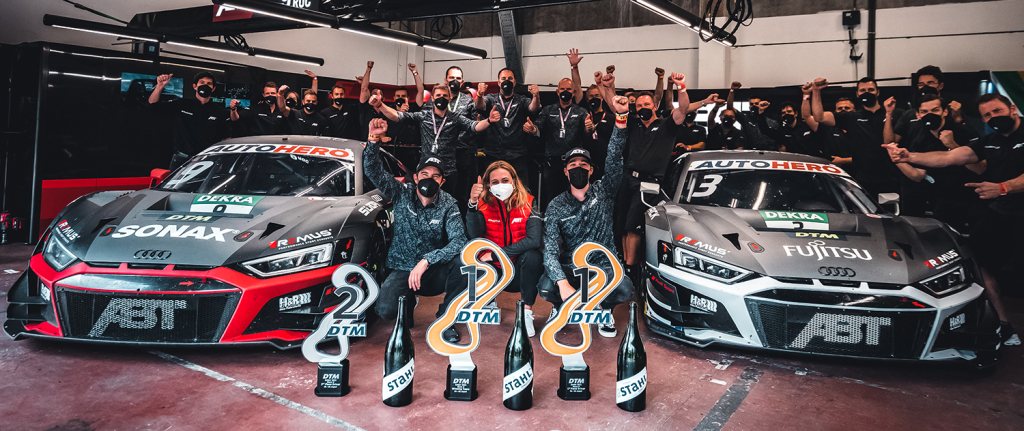 100% MADE IN GERMANY
H&R MOTORSPORT
POLE POSITION
ULTRA / HIGH-STRENGTH RACING SPRINGS
Since the start of the company in 1980, involvement in top international motorsports has been part of H&R's DNA. Countless victories in various racing classes and series are the reward of continuous development work at the highest level, innovative research and state-of-the-art production processes. By using high-strength spring steel wires, H&R racing springs reduce the "unsprung masses", an effect that has a positive impact on the vehicle's handling. In addition to the best corrosion protection, the elaborate production process includes many different operations which distinguish the quality of H&R race springs. A wide range of accessories such as spring plates, intermediate plates, adjusting nuts, lock nuts and many more complete the H&R motorsport program.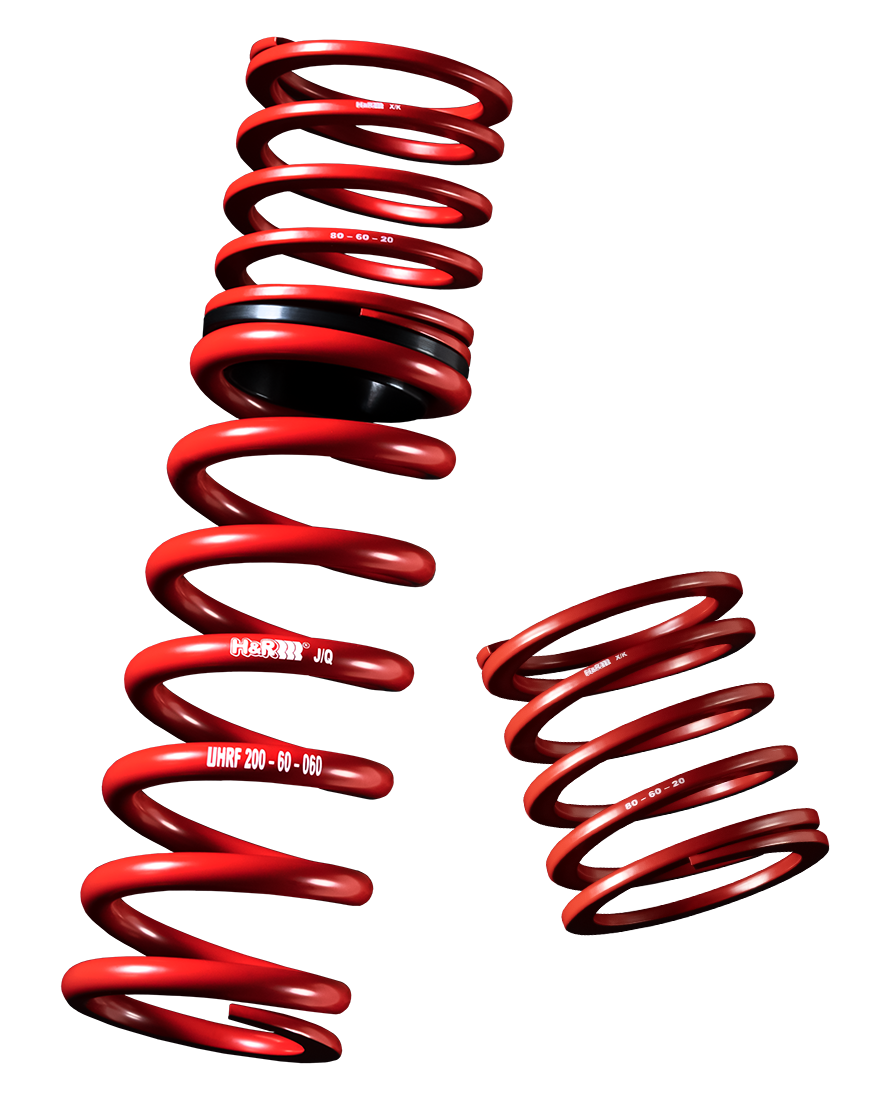 made of ultra / high-strength special spring steel

low weight & highest quality

reduced unsprung masses
TRUST & QUALITY
MANY TOP TEAMS & RACING SERIES TRUST IN OUR KNOW HOW
For decades, H&R has been one of the world's leading manufacturers of sporty suspension components in top international motorsports. Whether in Formula 1, the DTM or the WRC, in other formula classes or the numerous national championships and endurance races – racing cars with H&R springs have won countless victories. Today, H&R is a synonym for success in motorsport.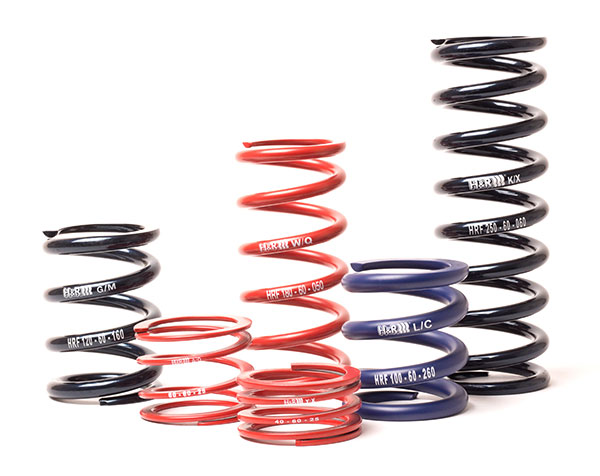 Main & Helper Springs
Main Springs:
Are made of extremely solid spring steel. This leads to a reduction of weight and more travel for a given spring rate than competitive springs made of usual spring steel. The main spring has a linear characteristic. By choosing suitable bump stops the block setting of the main spring must be avoided in use.
Helper springs:
Made of a special trapezoid material which resists long lasting solid stress can also be used. They can either increase the rebound travel or the response of the spring system, depending on whether the helper springs are already closed and have more travel, or if they can still influence the rate of the chosen main spring. To harmonize the intersection of the main and helper spring there are also some progressive helper springs in the range. In addition to this, there are also many accessories available like spring plates, setting nuts, counter nuts and bump stops.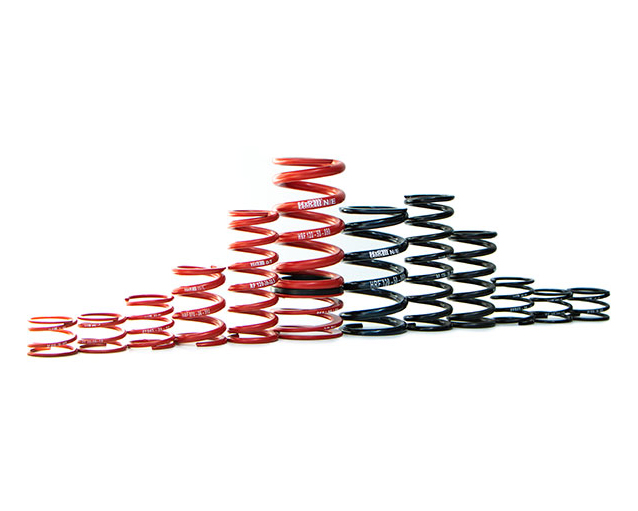 Formula 3 and Formula Student (SAE) racing springs – small but fine
For the smallest formula racers H&R has developed a range of springs with 36 mm inner diameter. Here too, precise production with low tolerances forms the basis for reproducible driving behavior. The use of high-strength spring steel allows a low weight and a large spring travel in relation to the length and thus contributes to lightweight design. A range of helper springs complements the race springs offered.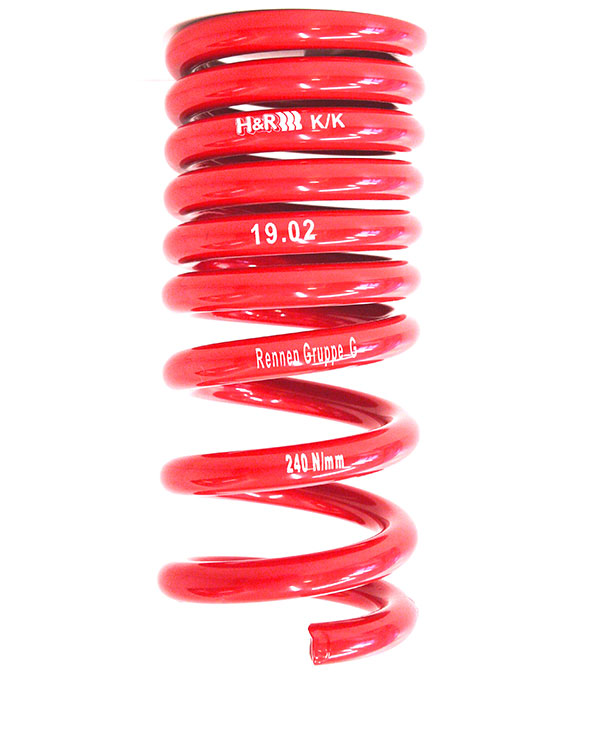 Group-G-Springs
In case a coil over suspension or a main- / helper spring set up is not allowed in a race series, special springs with an OE spring support can be used.These springs are designed for the specific race purpose. A combination for the matching race or rallye shock absorbers concerning length and characteristics is recommended. To ease the assortment, the free length of the springs is mentioned. The shock absorbers extended length must be shortened to guarantee an prevent the springs from slack with the wheel hanging out.
The springs are partly available in different spring-rates and different heights. The part numbers mentioned are for one single spring, by ordering please remember to order 2 pieces per axle.
The part numbers are composed like the following, example 1:
RG664VA-100
=> Race Gr. G, based on spring set 29664 (BMW E30) , front spring, spring rate 100 N/mm
Unless otherwise noted the race springs are designed to a lowering of 40-50mm.
Additionally there are Group G springs with original height or even higher which are especially designed for rally use with it´s fierce conditions like jumps and / or gravel stages.
Example 2: RP701HA-110
=> Race Gr. G, Rally, based on spring set 29701 (BMW E30 M3) rear spring, spring rate 110 N/mm
Individual special applications are possible on request, as far as technically possible.
For enquiries please mention the car details as well as the race purpose and the requested height (original car height or lower / higher).
Please note: The springs are delivered with a TÜV approval of the matching public road spring set to make the homologation easier (in Germany: homologation following § 21 STVZO). More info / data of the Group G springs are not available.
Group G springs do not have an own approval.
It is recommended to clarify suspension changes like this BEFORE homologation, in case a homologation is needed.
Please use the request sheet on page for your individual inquiry.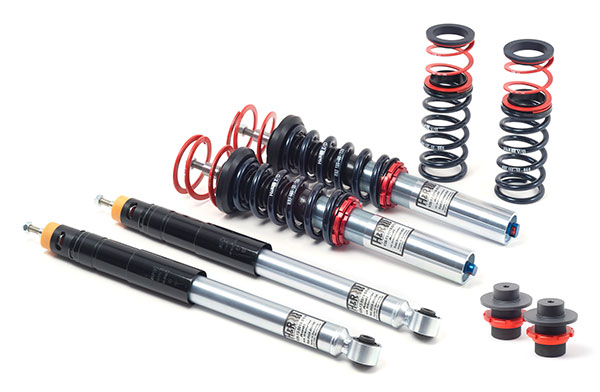 RSS Monotube Clubsport Coil over kits
The most sporty version of the H&R monotube height adjustable coil overs are the H&R Clubsport coil overs in Nürburgring set-up. A set-up tested between normal street coil over kit and real race suspension kit and useable on the race track is the first choice for an ambitious sporty driver. The RSS Clubsport coil over kits are designed for performance enthusiast who is willing to relinquish ride comfort in return for ultimate hadling performance. The RSS Clupsport kits are the choice for weekend track and Clubsport events. These coil overs are not usable for professional racing.They partly come with TÜV-approval.
H&R dampers are Monotube gas preassure shock absorber in upside down technology which is superior in terms of lateral stiffness is used on wheel-guiding axle struts to increase level of performance and grip. The RSS Clubsport coil over kits are designed for performance enthusiast who is willing to relinquish ride comfort in return for ultimate hadling performance. The RSS Clupsport kits are the choice for weekend track and Clubsport events.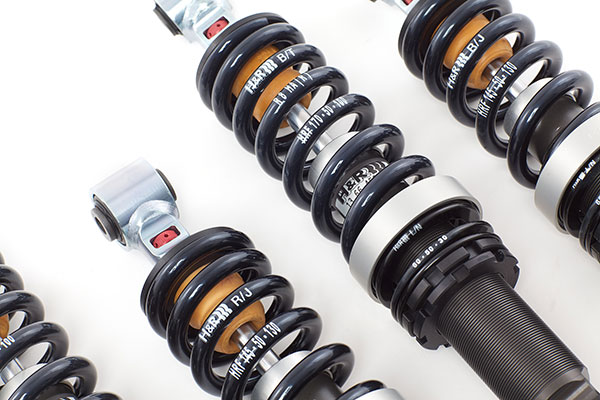 Monotube Race coil over kits
H&R race coil overs are renowned in racing series worldwide. High grade monotube shock absorbers are used with application-specific high tensile springs to complete race-suspensions.
The struts are upside down technology and the shock absorbers are equipped with spherical bearings whenever possible. Suspensions are built to order, so delivery time may vary and will be given on request. Custom made suspensions, based on the H&R layout, are also possible.
Alternative spring combinations
Deviation in shock absorber lengths from H&R normal spec.
damping-force-adjustment
Consulting on working parameters, cost and delivery time will be given on a case-to-case base. The race coil overs are not TÜV approved and designed for Motorsport use only. Race coil overs can only be produced on request and can not be returned. They can not be used for normal road-use.
A LOOK BEHIND THE SCENES
PERFORMANCE MADE IN GERMANY – RACE & WIN WITH H&R!