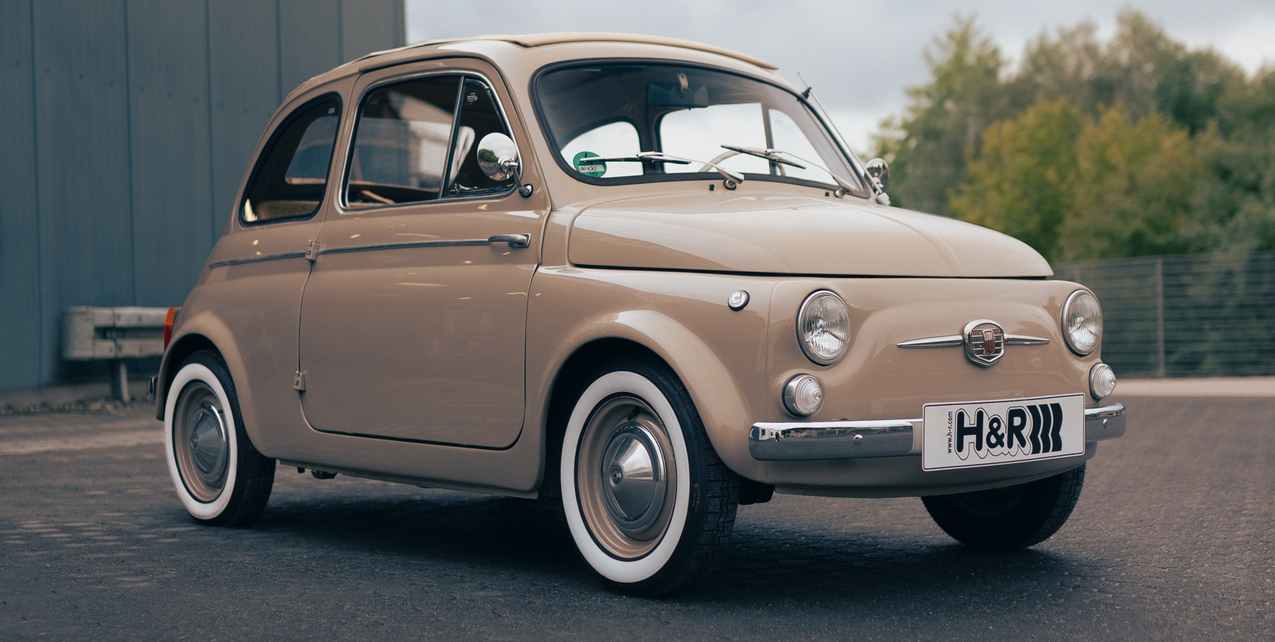 SPECIAL APPLICATION
H&R SUSPENSION – SPECIAL APPLICATION | FIAT 500 OLDTIMER ELECTRIC CONVERSION
The well-known Fiat 500 owes its name to the small engine. The 479 cc two-cylinder engine (500 cc nominal volume) produced 13 hp. Our customer took on the suspension of the car, which is popular with classic car fans, and tackled a spectacular project.
FIAT 500 "ELECTRIC!"! YES, ELECTRIC!
Although the exciting concept immediately created an unusually lively driving experience, but it also brought with it a serious problem. The weight of the rear axle increased significantly due to the installation of the electric engine, the heavy batteries and the wiring.
The now very low rear end of the Fiat not only disturbed the familiar appearance, but also led to poor handling, as the rear axle no longer had any suspension travel.
DO YOU HAVE A SUSPENSION PROBLEM?
WE ARE SURE TO HAVE THE RIGHT SOLUTION!
Now it was up to us: our suspension engineers took care of the problem.
The standard springs and shock absorbers of the rear axle were removed and went through our analysis process to find out the exact detailed values for the development of the new components. In accordance with the increased axle load, stronger H&R suspension springs were designed and adapted to Koni Classic shock absorbers with damping force adjustment.
OUR TEAM ENSURES THE HARMONIOUS INTERACTION OF ALL COMPONENTS.
The result is definitely something to be proud of – the Fiat stands at its usual height, is visually almost not distinguishable from its original condition before the electric conversion and the driving experience is perfectly matching the modern type of drive.
DISCOVER MORE EXCITING INSIGHTS INTO THEIS PROJECT IN OUR YOUTUBE VIDEO:
Do you have a question or need assistance?
ABOUT H&R
H&R Spezialfedern GmbH & Co.KG is one of the world's leadingmanufacturers of high-quality suspension components with applicationsfor over 3,500 vehicle models.
H&R stands for anintensive technology transfer from international motorsports to the development of
innovative suspension componentsfor road vehicles. Leading teams from Formula 1, DTM, the long-distance classics Le Mans and Nürburgring as well as other racingseries rely on H&R technology, and so does the automotive industry.
Around 100 employees develop and produce height adjustable springs, sport springs, shock absor-bers, sport and coilover suspensions, wheelspacers, stabilizers and electronic lowering systems. H&R also manufactures compression and tension springs for industrial applications. H&R quality products are manufactured in Germany.
H&R is represented by its own subsidiary in North America.
H&R Spezialfedern GmbH & Co. KG
Elsper Straße 36
57368 Lennestadt / Germany
www.h-r.com